The primary intention of visitors to the Château-Thierry American Monument is probably not to enjoy the view. First and foremost this white double colonnade is a memorial. Like many memorial sites, it bears witness to the involvement of the United States which fought alongside the Allies during World War 1. Even so, it is highly likely that visitors will be won over by the site's spectacular location and the view it offers over the Marne Valley at the western end of the Champagne vineyards.
Located 3km from Château-Thierry on a landscaped terrace at the peak of Hill 204, which overlooks the valley, the Château-Thierry American Monument is impressive in every respect… in its dimensions: 62m long and 21m high. In its appearance: white stone contrasting with the greenery of the surrounding environment. In the silence that reigns here. And of course in the memories that the monument evokes. 
It was on this very spot that heavy fighting took place during the Second Battle of the Marne. It was also here that on 18th July 1920, the town of Château-Thierry was awarded the Cross of the Legion of Honour. Beneath the monument, a visitor centre retraces the involvement of the American expeditionary forces during World War 1, particularly between June and August 1918 in the south of Aisne.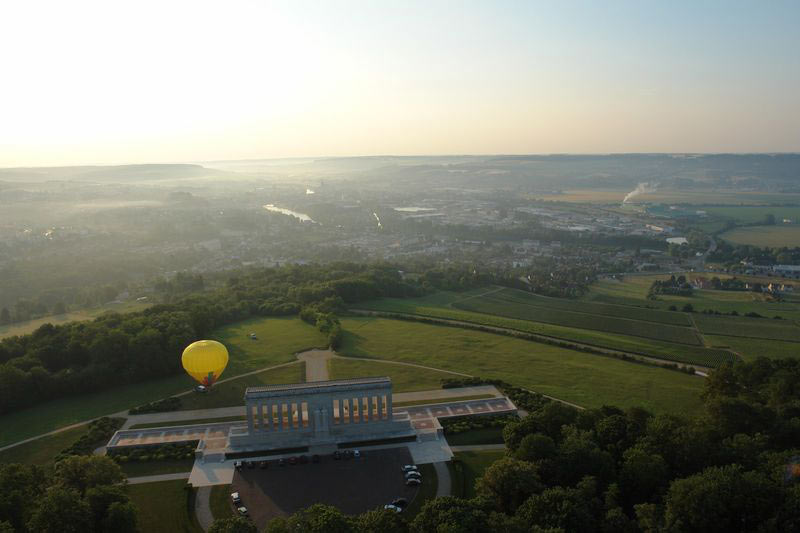 The American eagle on the monument's east side bears the inscription: "Time will not dim the glory of their deeds". Below, a map of the region shows the progress made by American forces during the Aisne-Marne Battle. On the ground, an orientation table indicates the directions and distances of historical points of interest. The table helps visitors observe and explore this symbolic landscape in the heart of the western Marne Valley. The vineyard seems to go on forever, intermittently overhung by forest home to rare flora, such as heat-loving orchids.
--
Practical information
Château-Thierry Monument on Hill 204 is open from 9am to 8pm
The visitor centre is open every day from 10am to 5pm, apart from Christmas and New Year's Day.
For more information: +33 3 23 70 70 90
www.chateau-thierry.fr/equipement/monument-americain-de-la-cote-204